B&N Editorials: Where are Mineral Companies Located?
By: Douglas B. Silver
As we enter into the next Supercycle, I thought you might want to know where the mineral company headquarters are located. So, brush up your resume, put on your best clothes, and hit the road! Here is what you need to know.
In 2018, I studied all of the world's public mineral companies. This required going through 257 stock exchanges in search of candidates. Sixty of these exchanges represented about 87% of the entire market capitalization for the industry. I updated part of this study last month but only focused on the 13 most populated stock exchanges. These are based in Canada (5), the United States (4), England (2), Australia (1), and South Africa (1). Collectively the companies listed on these exchanges represent about 80% of the world's current mining market capitalizations.
Many companies have listings on multiple exchanges so in order to determine which exchange serves as their primary exchange, I had to locate their headquarters. The attached figure provides a graphical presentation of the results.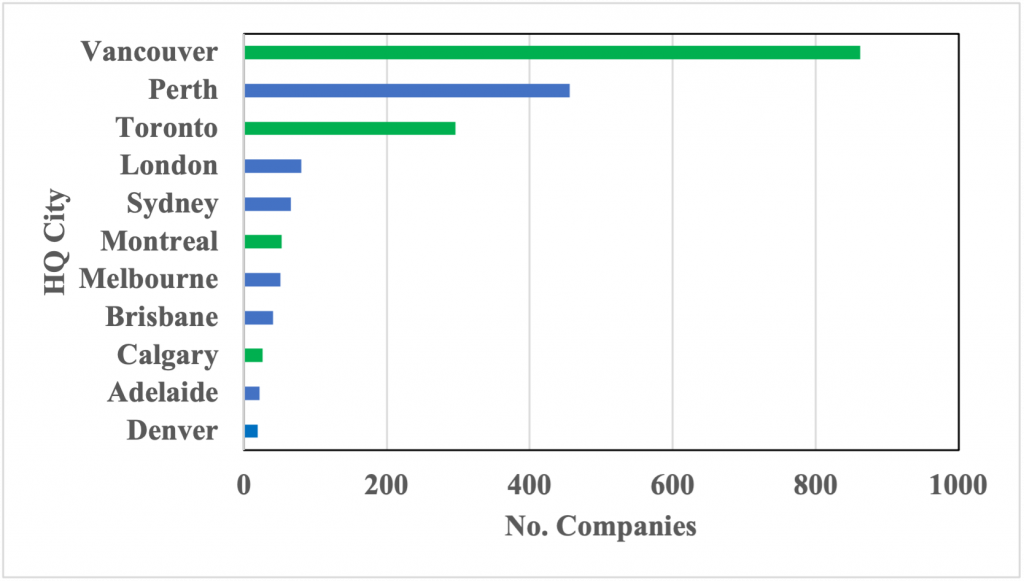 Canada's 1,403 public mineral companies represent more than half of this data set. If this isn't a testimonial to the power of Canadian mineral companies, nothing is. Vancouver hosts 862 companies, more than any other city on the planet, and Toronto is in third place with 296 companies. Montreal (53) and Calgary (26) are the next most popular Canadian cities. Even more impressive is that the Canadian companies have properties everywhere. They are a regular global infestation!
Australia has the second most companies with 661 in Perth, 66 in Sydney and 51 in Melbourne. Most of the companies housed in Australia only operate in Australia.
Despite London's reputation as a global financial center, it is home to only 80 companies. Its companies are global in their search for wealth.
The United States may be the largest economy in the world, but it is noticeably absent of mining centers. The two largest populations of public companies are found in Denver (19) and Reno (11). Notice that the Big Apple doesn't even make the list. I could only find 6 companies located in the greater New York City metropolitan area.
Finally, a note on South Africa. Endowed with some of the world's most spectacular geology and some of the largest gold and diamond deposits, it only has 18 public mineral companies, most of which are located in the greater Johannesburg area and only work in RSA.
Knowing the locations of these headquarters is important. Please use this as a guideline for where you need to visit when searching for a career upgrade.